About Refsnes Data


---
Our mission is to develop well-organized and easy-to-understand online tutorials based on the W3C Web standards.
---
Refsnes Data
Refsnes Data is a Norwegian software development and consulting company focusing on
Client / Server Databases
Data Warehousing
Internet Database Applications
Our Web Masters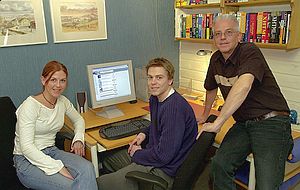 Hege Refsnes Ståle Refsnes Jan Egil Refsnes
Hege, Ståle, and Jan Egil Refsnes are the authors of W3Schools. They all have long and solid experience with Internet development.
Today their greatest concern is W3Schools, a web site that has quickly become one of the most popular in the world, with ever increasing visitor traffic.
Hege Refsnes
Hege Refsnes has 7 years of Internet development experience, developing web based solutions for different customers of Refsnes Data.
Hege writes most of the .NET and ASP tutorials at W3Schools.
Ståle Refsnes
Ståle Refsnes has 6 years of Internet development experience, developing web based solutions for The Norwegian Handball Federation.
Ståle writes most of the HTML, JavaScript and VBScript tutorials at W3Schools.
Jan Egil Refsnes
Jan Egil Refsnes is the senior developer at Refsnes Data with over 30 years of computing experience.
"Jani" has been supervising a large number of company critical development projects for oil companies like Amoco, British Petroleum, ELF, Halliburton and Brown & Root. He has also developed computer based solutions for more than 20 governmental institutions like The National Library, state hospitals, the police, and many others.
Jani writes most of the XML tutorials at W3Schools.

---


---
---
6 ways to take your site to the next level with Ektron:

| | |
| --- | --- |
| | Create site stickiness through social networking. Keep it personal, relevant and interactive and they'll come back for more. |
| | Keep it open. Your site needs to be ready and able to connect to outside services. Ektron's open API gives you maximum flexibility. |
| | Streamline content and document management. Users need to quickly and intuitively find and add information. |
| | Empower your content authors. Reduce IT bottlenecks by allowing business users to create and edit Web content and forms. |
| | Climb to the top of search rankings. SEO tools, URL aliasing and eCommerce for your digital marketing strategy |
| | Add powerful Web 2.0 tools like blogs, wikis, forums, geo-mapping, rating systems and RSS feeds easily. |

See why there are 20,000+ Ektron integrations worldwide.
Request an INSTANT DEMO or download a FREE TRIAL today.
---